Here is a write up I did on my forum a while back.
I hope it helps. Most people take this with a grain of salt but keep in mind I have probably forgotten more about CB radios than most will ever know.
Which CB radio do you need?
When buying a CB radio one of the most asked questions I get is "which one do I buy"
I always suggest that you start with something like the Uniden PC 66, 68, 78 of any variation or the Cobra 25 or 29 in any variation.
If you buy the cheaper CB's your voice will sound pinched and unrecognizable. They are not the same as the radios I suggested, if you are good with sounding muffled and pinched them buy the cheaper radio, if you want to sound the same as you do in person get the better CB's that I suggested.
The other advantage to the CB's I suggested is that a connex style echo / reverb board can be added to the radios. If set properly the echo board will make your voice sound clear and crisp or you can act like a super trucker with Wolfman Jack reverb., more on this later.
It really boils down to how serious you are about your stuff.
Size Does Matter
Another concern when buying a CB is its size and where to mount it, this is major concern for TJ, JK owners.
I see a lot of people with these jeeps using the Cobra 75 all in one CB, these will work but are poor sounding CB radio's.
If you are dead set on a super small CB then you can use this just don't expect magic from it. It is basically a walkie talky with an external antenna connector.
If you decide to go with the larger better sounding CB's listed above it will take some creativity when mounting it. I have seen it mounted on the side of the console, behind the console, the cage, under the seat etc. etc.
Powering your CB Radio
The best source for power to your CB radios is a direct feed from the battery or distribution block that is feed from the battery. The positive wire +
RED
may need to be extended to reach, I would use 14 gauge wire. You will need to install a 7.5 amp fuse and fuse holder 18" or closer to the 12 volt source you choose. This is to protect the wire in case of a short. The fuse that came with your CB radio is designed to protect the CB radio if reverse polarity is ever applied to the CB radio.
The negative wire - can be grounded to the chassis or body, make sure you have a paint free connection.
You can also run the negative directly to the battery but it is not necessary if the vehicle body has good ground path to the battery.
Antenna and Coax
The antenna is really the heart of the system, if properly installed you can talk well over 10 miles, if improperly installed you will be lucky to talk or hear anything over 100' away.
The length of the antenna is critical. Antennas under 5' in length will be less effective when compared to a 9' stainless steel whip. I know this is concern for off roaders because a tall antenna will hit every low hanging branch we go under. The perfect size without to much loss is a 4' antenna. I prefer the 9' stainless steel whip but if you choose to use one of these remember what it can do to someone standing nearby if you are trying to bounce up a 3' ledge, this will have a eye removing sword affect.
I think the K-40 superflex is a great antenna for what we do.
The firestick, wilson silver load and various others.
They are pretty much the same with K-40 being the best for whet we do.
Make sure it is at least 4' long.
I would also use a spring on all of them with the exception of the K-40 superflex.
Where and how to mount the antenna
The antenna
mount
needs to be securely mounted to the vehicle. It also has to be mounted to steel. If you mount it to plastic it will not function correctly. Half of the antenna working right is the reflective affect that vehicle body has with the antenna itself, this is called counterpoise. This is why when an antenna is mounted on the back of a vehicle you will hear signal in front of you better.
There is all sorts of store bought mounts.

The next important step is how the mount is assembled, the antenna and the base of the antenna itself cannot touch the mount. That is why there is an insulator. If you do not assemble the mount correctly the antenna will not work. In the picture you can see how the mount needs to go together.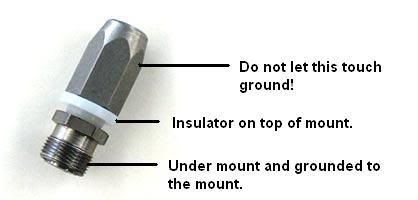 Coax, buy built or build your own
After you have the antenna mount done you will need to run coax cable from the CB radio to the antenna mount.
You can use either RG58, RG58X, RG8X or RG8U. Any 50 ohm coax will work.
You can buy it with the ends already installed or install the ends yourself. Your choice.
Homebuilt ends are better if done correctly.
To install the ends you will need a hot soldering iron, a $4 soldering iron will not work if you intend to do it right.
The length it needs to be is the length it takes to get there, forget about myths about needing so much coax.
If it is too long it is OK to coil the slack up, do this in circle about 6" in diameter are larger so you do kink the coax.
You will need 2 PL-259 connectors and 2 reducers to fit the coax you will be using. You can see these in the picture below. For RG58 the reducer is called a UG-175 I believe.
Remember this will take a hot soldering iron to solder the body, the tip can be done with just about any soldering iron and in most cases not soldering the body to the braid of the coax is fine but this will cause troubles later.
You will need a rosin core style electronics solder.
I usually use a knife to strip the coax just be careful not cut anything but plastic.
DO NOT FORGET TO PUT THE LARGE THREADED RING IN THE COAX BEFORE YOU START SOLDERING!!!!



Store bought pre-made varieties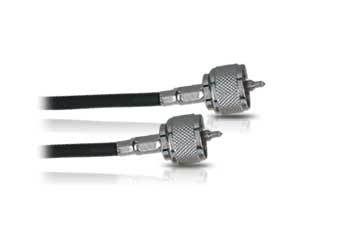 Install and tune antenna
Once this is done you will need to hook the coax to the antenna mount, install your antenna and test your SWR. This can be done with a cheap SWR meter. Some CB radios have one built in. I can also test it using my antenna analyzer if need be. Most fiberglass antennas are not adjustable so whatever SWR you have is what you are stuck with. Anything under 2.0 is fine, lower is better.
If an antenna is adjustable you will need to make adjustments to achieve the lowest SWR as possible.
If the antenna has a small wire sticking out of the side base of the antenna you can just snip this off if the antenna tune in with a low SWR. This is a small matching network that can sometimes be used to achieve a lower SWR but I always just cut them off, it is really on there for when truck drivers are using dual antennas. This wire is usually only found on wilson brand antennas.
If you want to try it out get on and listen first, can you hear people on channel 19?
If you live with a few miles of a major highway you should be able to hear truck drivers. Not all truck drivers have decent CB's so never judge the signal reports by a truck driver. Not to mention they will almost always BS you when you ask for a "radio check". If they reply to you that means it is transmitting and that should be good enough for now.
As you drive around the next few days try it out.
Add on and upgrades
There are a few things you can do to have a CB radio perform better.
On is referred to as a
tune and peak
The problem with these are that 99% of CB shops will only clip a modulation resistor which makes your radio talk louder but it usually is slightly over modulated. Some of them will tune for more power but unless they have the right test equipment (Which they don't) they are not really tuning your radio. A monkey can do what they do to CB's with a $20 watt meter. Don't believe them when they tell you otherwise. They are screwdriver wizards. There are still a few people who have the knowledge and equipment to properly align a CB radio, this will align the transmit and receive. The radio will transmit better and receive better, no CB shop does a true alignment. I still have all of my test equipment and can do a true alignment on a CB but this not something I do for a living I would prefer if people did not line up and ask me to do it. I will do it on occasion but that is it.
Microphones
Another thing you can do to better a CB radio is a quality microphone. I prefer the Telex Road King 56.
This is by far the best CB mic you can buy and it is noise canceling as well.
The cord on this microphone is like silk when compared to a stock microphone.
Echo
When adjusted properly (very little echo) an echo board can do wonders for making your radio sound really good.
A small resistor can be soldered inside the radio so you can slightly hear yourself when you are setting the echo.
This is known as talkback.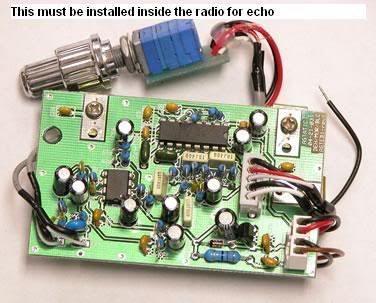 There are other bells and whistles that can be added but they are just noise makers.
External Speakers
These are a great add on. If mount the radio anywhere except for right in front of you you will probably need an external speaker. If you can find the room, even under or slightly up in the dash try to go with the larger external speaker. They have roughly a 4" speaker. The small 2" speaker version is very high pitched and hard on the ears.
The 2 below are made by Cobra and Uniden.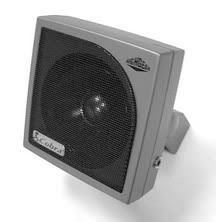 Antenna Quick Disconnect
These can be handy if someone has to remove there antenna a lot. I do not like them when mounted and not used but as long as they are used on a regular basis they are fine.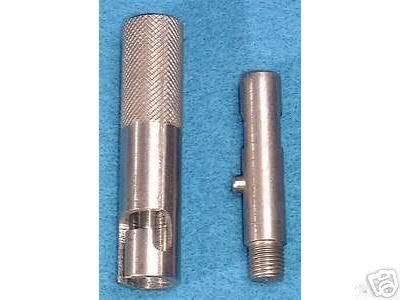 CB Slide Mount
These are used so you can take the CB in and out without unhooking any wires.
These things are notorious for losing connection but with a little maintenance they work fine.
They are also very difficult to find.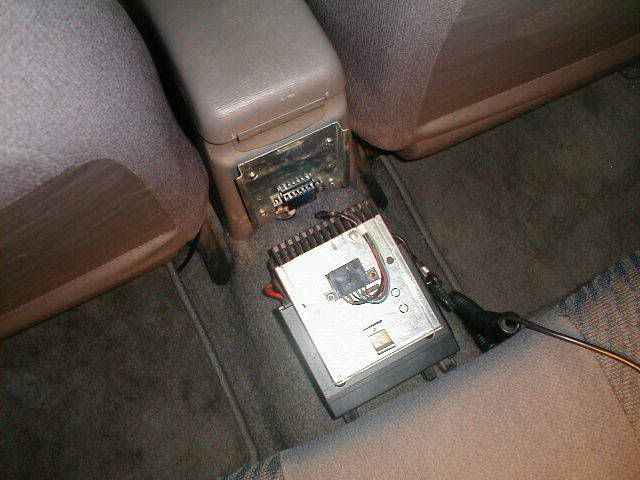 I hope this answers the common questions people may have when trying to install a CB radio.
If someone has other questions feel free to ask. A dumb question is a question unasked.
-=PEAKABOO=-