milky way jeep.jpg
Milky Way Run
July 25th - 28th
Big Bend National Park
See More Details in Post Below...
Lone Star Jeep Club is heading to Big Bend National Park for some awesome wheeling, photography, and adventures. Please mark your calendar to join us for this iconic trip to see the Milky Way and wheel on some amazing trails. This is also another opportunity to earn another Jeep Badge of Honor trail badge.

Info for Big Bend National Park:
Operating Hours & Seasons

Chisos Basin Visitor Center

NPS Photo/Ann Wildermuth

Park Entrances
Park entrances are open 24 hours daily, all year. Entrance fee stations have variable seasons and hours.

Arriving After Hours
Park entrances are always open and you can arrive at any hour, but entrance fee stations and visitor centers may be closed after normal business hours. The three main park campgrounds are always open (pending site availability); self register at the campground entrance. Lodge guests should contact the lodge if arriving after business hours.


Visitor Centers
Panther Junction
Open daily, 8:30am–5:00pm. Reduced hours on Christmas day.
Chisos Basin
Open daily, 8:30am–4:00pm. Closed for lunch. Reduced hours on Christmas day.
Persimmon Gap
Open seasonally, November 1 - April 30, 10:00am-4:00pm.
Closed for lunch.
Castolon
Open seasonally, November 1 -April 30, 10:00am-4:00pm.
Closed for lunch.
Rio Grande Village
Open seasonally, November 1 - April 30, 9:00am–4:30pm.
Closed for lunch.


Concession Hours
Forever Resorts operates a variety of facilities and services in Big Bend National Park.

Boquillas Crossing Port of Entry
Winter Season operating hours are
8:00am - 5:00pm Wednesdays through Sundays (closed on Mondays and Tuesdays).
Camping
Cottonwood Campground is a shady oasis near the Rio Grande.


Developed Campgrounds
There are four campgrounds in Big Bend National Park. The National Park Service operates three developed frontcountry campgrounds that provide drinking water and restroom facilities. The campgrounds use self-registration and the majority of sites are first-come, first-served. In addition, a full hookup RV camping area is operated by the park concessioner, Forever Resorts.

NPS Campgrounds
Concession Campground
Rio Grande Village RV Campground (run by Forever Resorts. 25 sites with full hook-ups).
located adjacent to the Rio Grande Village Store. For reservations call 1-877-386-4383 or 432-477-2293.
NPS Campground Reservations


A limited number of campsites in the Rio Grande Village campground are reservable from November 15-April 15, and in the Chisos Basin campground from November 15–May 31. Reservations must be made 4 days ahead of arrival and can be made up to 6 months in advance by visiting recreation.gov or by calling 1-877-444-6777. Big Bend National Park cannot make reservations. For more information visit the campground reservations page. Camping Limits


Visitors can stay in the park up to 14 consecutive nights in either a front or backcountry site, with a limit of 28 total nights in the park in a calendar year. Campers can occupy a specific site up to 14 total nights in a year. Between February 1–April 15, visitors are limited to a total of 14 nights in the park.

Camping Options Outside of Big Bend National Park


There are a variety of options for camping outside the park when Big Bend is full.

Backcountry Camping
Permits for primitive roadside campsites, backpacking, and river-use permits are issued at Panther Junction and Chisos Basin Visitor Centers during operating hours. All permits are issued in person and must be obtained before the backcountry use. Backcountry use regulations and group size limits apply. Please visit the backcountry use page for more information. Backpacking Group Size Limit


An organized group or individual party may not exceed a 15 person limit.
There are currently only two Chisos campsites that can accommodate a group this size: it may be necessary to split the group to other campsites. Groups of of 5 to 15 may need to split into smaller groups but groups that split up must not exceed the total of 15 people per night for any one or group of sites in the Chisos backpacking zone. As permits are issued only on a first come, first-served basis, it is best to plan ahead, and have alternative itineraries in mind, especially during peak visitation periods.

Lodging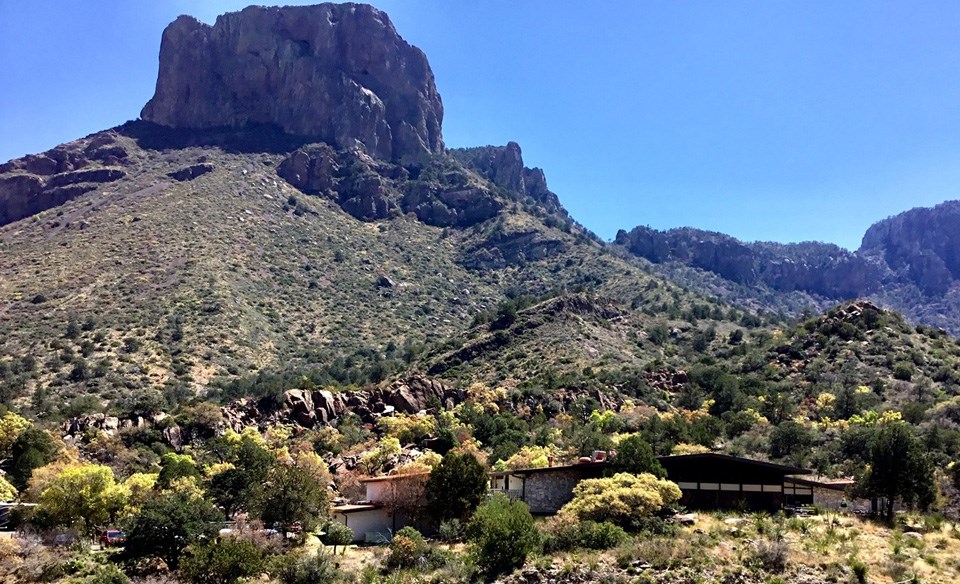 The Chisos Mountains Lodge restaurant is located at the base of Casa Grande peak.Chisos Mountains Lodge


The Chisos Mountains Lodge, operated by Forever Resorts, Inc., is nestled within the Chisos Basin at 5,400 feet elevation. The lodge offers a variety of rooms and cottages, plus a gift shop, camper store, and dining room. The lodge is open year-round, and is the only lodging available within Big Bend National Park.
Lodge Reservations By Phone: (877) 386-4383 or (432) 477 2291


Area Lodging Options
There are a variety of other accommodations available outside of Big Bend National Park. A list of accomodations is available at VisitBigBend.com.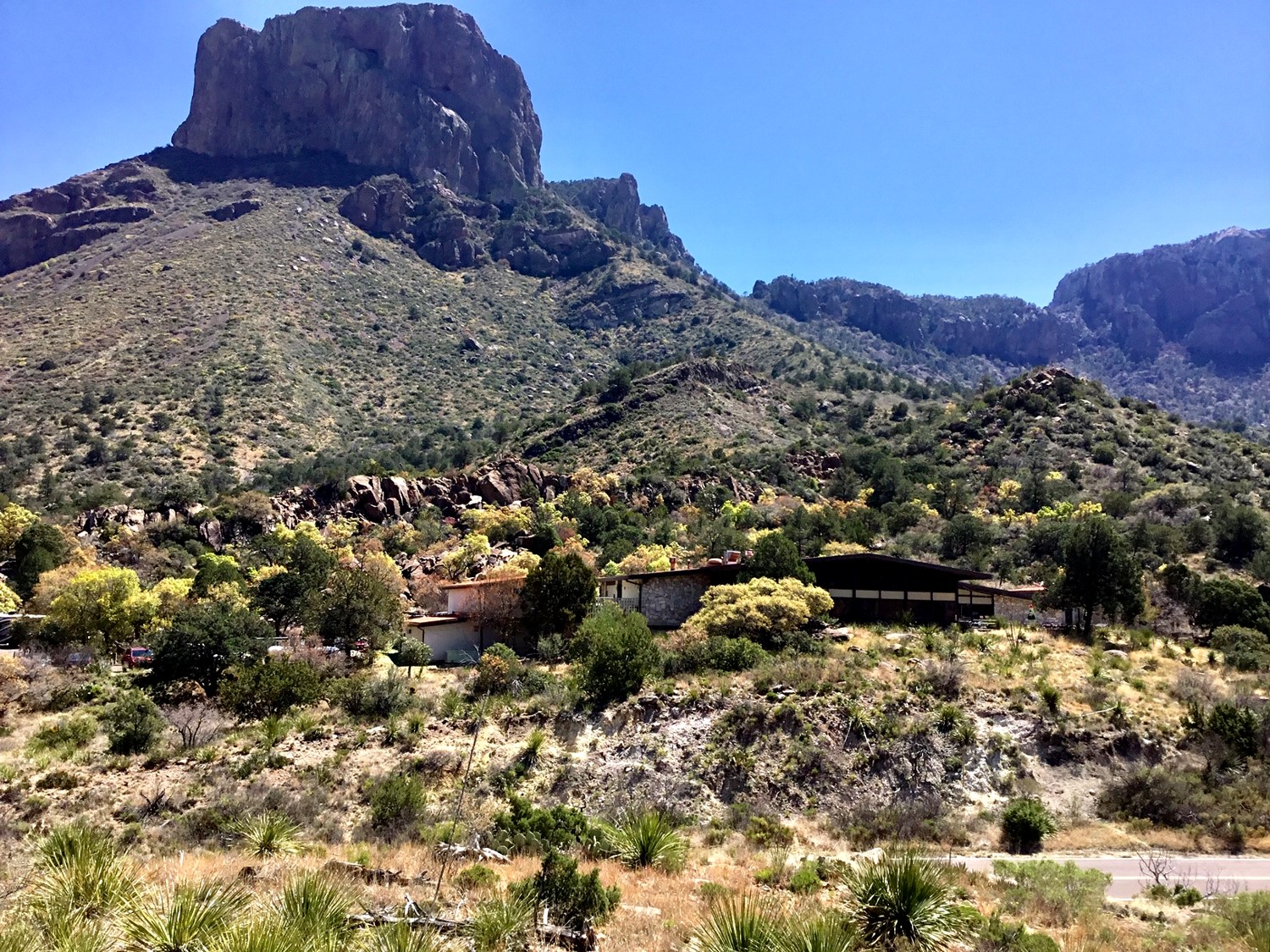 PHOTO GALLERY Chisos Mountains Lodge

6 PHOTOS

Images of the lodge and associated facilities in Big Bend National Park